Mabye Jennifer Aniston and I could be pals if we ever came across each other in real life. She is delightful and I love her as an actress. Well, I love her in Friends, and she did a good job in Marley and Me.
*Side note- Marley and Me might have been a great movie, but it makes me have guilt as a parent every time I think about it. Apparently, you should research what a movie is about before taking your kid to see it. Don't just check the rating. Like, for instance, if you see that a cute dog movie is playing, make sure you know that dog is still alive by the end of the movie, especially, let's say, when your cat who has been alive your child's entire life passed away 5 days earlier. Don't judge me. I wasn't the only one, okay? There were patches of crying children and comforting parents *all across the theater*  after the movie was over. Either the next showing started later, or the ushers left the popcorn and spilled Raisinettes on the floor, because we didn't clear out of there quickly. (Perhaps I shouldn't have spoiled the movie for you just now, but come on – that movie is more than a decade old. If you haven't seen it by now, you aren't going to)
**A side note to that side note- My young friend from church was moving to Florida a couple of years ago and we went to see a movie before the big move South, and I chose Inside Out. If you haven't seen that one, you should because it's great, but don't watch it with anyone who is moving 15 hours away from all their friends. Sorry, Flynn. I should never pick movies for anyone ever. It is not my gift.
Back to Jen. I don't love her quite as much in her commercials. I just don't find them believable. I can't picture her at the Walmart laying down her 10 bucks for Aveeno as her only means of keeping herself moisturized.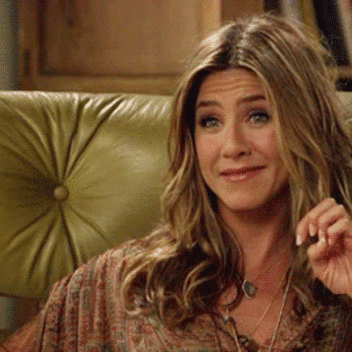 I'm skeptical of famous people pushing their cheap products on commercials, trying to convince us we need it because it works so well for them. As if I believe that Sarah Jessica Parker really only spends $7 on Garnier hair dye and sits in her bathroom with her hair flipped over the tub, setting the egg timer for 20 minutes. And, Henry Winkler, I have a hard time believing the Fonz ever made the decision to do a reverse mortgage to bring in some cash.
I just don't trust you if you are giving me advice without experience to back it up.
I heard a sermon by Britt Merrick who was talking about a person who was going to run a race. Who would that person go to for pointers and advice on the route? Someone who had merely looked at the route? Maybe someone who had helped plan the route? Someone who gave up halfway through a race? Someone who made a wrong turn? Or someone who completed it? While they all could have *some* good advice for sure, the best option is the person who made it all the way to the finish line.
God gave us Jesus. His sacrifice for us on the cross is for sure the best thing ever, but an added gift for us is the 33 years he lived on this planet. He walked like we do, had relationships like we do, learned like we do. He gets us.
He is able to know from personal experience the things that we go through.
Because of that, we can have an extra level of confidence in what He taught us. He wasn't giving us empty words when He told us that we would be blessed if we are peacemakers. He meant it when He said the Kingdom of Heaven belongs to those who are persecuted because of righteousness. He wasn't assuming it's possible to love our enemies; He had enemies himself and gave his very life for them. He knew what it was like to want to find a way out of something, but to submit to the will of God instead. He experienced his own friends deserting him. He knew what it felt like to be alone. He knew how it felt to be hungry, to be tired, to be thirsty.
Friend, what you have been through, He has been through, in one form or another, and He made it to the finish line. While we will likely have times where we fail along the way, He is who we keep our eyes on to keep going. He picks us right back up and points the way.
So, lets not give up. When you are struggling, know you aren't alone. We all go through the hard things. Life isn't easy, and it won't be this side of Heaven. Keep your eyes on Jesus. And don't miss out on the people He has put in your life to help along the way. And while you are at it, keep your eyes on the lookout for your brothers and sisters who may be struggling as well, finding opportunities to help and encourage them as well.
"For we do not have a high priest who is unable to sympathize with our weaknesses, but we have one who has been tempted in every way, just as we are – yet was without sin. Let us then approach the throne of grace with confidence, so that we may receive mercy and find grace to help us in our time of need."
Hebrews 4:15-16